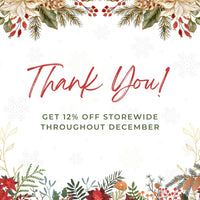 The Gift of Gratitude
As a way of expressing our gratitude, we are giving 12% off discount on all our products throughout the entire month of December!
Discount applied at checkout.
SHOP NOW
Each Item is Dynamically Enhanced
Solfeggio frequency of 528Hz, also known as the Love Frequency, Miracle Tone, DNA Repair Frequency, Frequency of Transformation is known for its powerful transformation effects on human body as it helps to return human DNA to its original, perfect state, followed by its beneficial effects of increased amount of energy. Click to learn more.
Learn More