"I am a Registered Nurse having worked in primary health care for several years. I have been fortunate to discover and experience the health benefits of the Miracle Products for my own and my family's health without the need for conventional medical treatment.I know too well the health system we are governed by, the illnesses people face and the treatment options that are available. It has only been as I have asked questions about why and how does the body get sick that I have discovered the answers that truly heal. I have had many positive health benefits from using the Miracle products; whiter teeth, restored healthy gums, radiant skin, stronger nails and shiny hair, mental alertness, no need for vascular surgery, fighting infections without antibiotics, removal of skin tags, and a list of proactive wellbeing health benefits too many to list.The human body is our biggest asset, it is a wondrous creation that when it is healthy it is ingenious and when it is sick it is fragile. I cannot recommend to you enough the value in caring for your health in a proactive way and restoring the balance that keeps us well in a holistic and natural way.These products are not any ordinary purchase, be prepared to use them in your daily routines and be prepared to see real results. The results will speak for themselves." – Deb Littlefair NZ

"When I stumbled across Miracle Mist I didn't realise that it could help me in so many ways. I heard of the benefits and recommended it to family and friends who I thought really needed it. To my surprise the results and benefits gained were excellent, far better than I had ever expected. I use it for general overall health and wellbeing and also for my foot which has an extra bone in it. Since using it, my foot doesn't get stiff or sore and I can stand up for the full day if necessary. I also use the miracle mist to take away any neck tension and the odd headache if they occur from heavy lifting or from sitting in front of the computer for long periods of time. I have found that I don't even get any sore muscles after a weights workout which is great because it prevents the build up of lactic acid. I highly recommend fixaderm. It is great for stings, scrapes, bumps, scratches, cuts and many more skin related conditions. I recently took a chunk out of my finger and used the fixaderm. It ensured no pain and most importantly no infection plus it sped up the healing process. I also use a drop or two of the natural plant oils deodorant under each armpit. It is safe unlike many commercially bought harmful deodorants, especially those containing triclosan or aluminum. It ensures no smell causing bacteria can live and therefore prevents any body odor. " – Meetal, Carseldine, Brisbane Qld

"After over 30 years working on the tools in construction, the aches and pains in my neck and joints were getting worse and more on my mind. Since using the miracle mist, I have found it has taken the edge off the aches and given me relief, particularly in my neck." – Bill, Brisbane Qld

"I would like to tell people of the wonderful product, Miracle Mist, that I've been using for the last 3 months. I first saw it at the markets that I went to, and with anything sellers try to tell me, I must admit I was a bit sceptical. But as I am a great believer in magnesium for pain (I take a tablet daily) thought there was no harm in trying it. As with anything new, I didn't use it straight away as I kept forgetting to use it, but being a cleaner, pain tends to live me everyday, so I started to use this product and was amazed at the results. I have since given my small bottle to my son when he was down from Townsville, and he loves it also. I can not say enough about this product as I used to live on panamax to combat the pain that I went through. I would thoroughly recommend it to anyone, not to just take my word, but to try it for yourself, I promise you won't be disappointed." – Janice, Banyo Qld

"I am so utterly impressed with the Miracle Mist I could yell it from the roof tops! My skin has become silky smooth, joints no longer creak and snap with exercise, it makes the best natural deodorant ever (rub it into arm pits), my teeth are at least 3 shades whiter (I use it as a mouth rinse swish around for a few minutes after brushing my teeth – then spit it out) and most extraordinary of all it has COMPLETELY resolved my neuralgia! After a serious bicycle accident 2 ½ years ago, I reinjured my cervical spine (which sustained a compression fracture in 1988).Within a year following a serious bicycle incident I began to experience bouts of neuralgia and paralysis which my chiropractor believed could only be corrected by another surgery because the x-ray revealed bone spurs growing through the nerve path. I promised myself that I would never under-go another operation (after a spinal fusion and discectomy in 1995) and began seeking alternative ways to resolve this extreme discomfort.
Within a month of using the Miracle Mist (spraying it into my hands and rubbing it on my entire body with particular emphasis on the back of my neck and arms where the most pain was) I broke out into red welts covering the back of my neck and running the exact nerve path down both arms where I experienced the neuralgia. I find it amazing that the Miracle Mist reacted dramatically all along the disturbed nerve path – extraordinary! I kept using it in spite of the burning upon application and yahoo – first the neuralgia became less and less painful – then the welts began to disappear! After about 3 months of twice daily application (morning and night) I am completely free from all neuralgia and have regained my usual exercise routine." – Alyce Harms – Sunshine Coast

"I have been using Miracle Mist for approximately 4 months and this really is a "miracle" product. I apply the mist to my face daily and my skin has improved out of sight (even deep wrinkles are now out of sight!!!). I also swish the product in my mouth and swallow at night, I have also been combining this with the Miracle Gum Bark & coconut oil paste around my teeth as I have had extensive gum disease. I visited my dentist this week and he could not believe how my gums improved… he told me to keep doing whatever I had been doing because the improvement he said was truly "miraculous"… thank you Miracle Products!" – Yvonne Mason, Crohamhurst Qld

"Further to our conversation last Sunday in Bulcock St,I would like to put in writing my experience with Miracle Mist Magnesium spray.About two years ago within the space of two months I had two falls on slippery exposed aggregate concrete, both falls on the same knee, the pain was very acute causing me to hobble about for quite some time. Over a period of time I was able to live with it, not wanting to go to a doctor as I was not sure what they might want to do with it, maybe some surgery.One Sunday as I was visiting the markets in Bulcock St I happened upon your stall, I was speaking to you and as you gave me the spiel I count help wonder if I was just hearing : the old snake oil stuff: however I did purchase some of the product and faithfully rubbed the product into the affected knee every night for about two weeks, and blow me down if the pain didn't disappear, just very occasionally do I feel the need to reapply the product and wallah! fixed again, pain gone.Thank you for providing a really great product that lives up to its claims." – John Rabbas, Caloundra

"I'm here on holidays with lower back pain. I was missing my chiro sessions & my friend gave me the Miracle Mist to put on. I am now going back to Melbourne with the mist & saying goodbye to my chiro. Woohoo…!!!" – Sybille Hennequin, Victoria

"I have quite extensive sun damaged skin and have been using the Miracle Mist for a couple of months now. Initially I had quite a strong 'detox' reaction as the damaged skin flared up, but the end result is that it has all cleared & my skin is starting to look great!! – very happy about that!" – Jo McAlinden, Sunshine Coast

"Yesterday a customer told us his story – he bought a bottle for his wife who was having low back pain – she loved it and shared some with her mother while they were visiting her because she had arthritic hands and has not been able to make a fist for over 20 years. She had tried everything from natural to pharmaceutical but did not get relief from pain nor flexibility. Well, only using it for ONE day she was able to make a fist for the first time in over 20 years! FAST ACTING!!!!! So the mother-in-law confiscated the bottle and he had to come back to buy another one for his wife! Every day we are getting these kinds of miraculous stories – I can't tell you how thrilled we are to have created this Miracle formula." – Alyce & Larry Ferguson, Sunshine Coast

"Dear Alyce,I contacted you in September and ordered the Miracle Spray for a terrible skin problem on my feet which I have endured for many years and tried every cream possible on the market…..my spirit guidance was totally correct….magnesium is working wonders!I have included before and after (so far) pics for you to see…..I have a way to go yet, but the results are so encouraging for me….I have been so vulnerable and sensitive around my 'golden feet' for a long time…..no medic has ever been able to offer a solution, one doctor even told me I had Aboriginal feet! I felt that was an insult to our beautiful indigenous community! Am placing another order tonight….all blessings….Tanya x"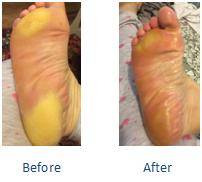 "Thank you so much for that wonderful container full of magical thingies, it has been already so amazing! I started to use it that night and after about four days of splashing it onto the spots which cramped, I found that I was sleeping through the night not having to struggle out of bed to pace round the cold floors to ease the pain!! Such bliss! What wonderful genies must be inside that formal looking, plainish pot! Nothing bright, colourful, and show-offish to suggest it keeps miracles within! Much love, Beryl." (Beryl is 89 years old)

"Thank you Miracle Mist! I regularly suffer from a stiff and sore back from my job, particularly my lower back from shovelling and I found that I got relief within a couple of hours. My father in law is using it to now, highly recommend!" – Peter D, Palmwoods

"I have been using Miracle Mist spray for about a month for ankle pain. I could hardly walk the pain was like red hot knife. I used several other products, liniments and some pharmaceutical but they didn't do a thing. Now with the Miracle Mist – using twice a day, I am now pain free. For the first time in 6 months I can walk normally again! It is such a big relief and economical too – very cost effective!" – Geoff Brewer

My name is Jodie and I have fibromyalgia, a chronic pain disorder that effects every muscle in my entire body. I have suffered with this condition for the past 17 years and have tried what feels like everything; all of the treatments & supplements had little or no effect (I've spent a fortune too!). I've been taking Miracle Products MSM and Camu Camu for well over 12 months now and it has changed my life! My pain threshold would normally, on an average day, be at 7/10 and increase to an 8 or a 9 during busy & stressful times. Being in constant pain reduced my quality of life and my enjoyment. But now my pain is completely manageable, at no more than a 3/10; some days I don't even notice it and feel normal. I also have boundless energy, sleep better and my immune system is thriving. I would highly recommend Miracle Products to anyone who has a condition or is looking to improve their health. - Jodie

Correspondence between Alyce and Debi (Vic) regarding Varicose veins:
Hi Alyce,I write to ask if perhaps you may have some knowledge on Varicose veins and natural treatment.I've had an ultra sound done and followed up with a Surgeon this week. It would was a short consult and he had convinced me that I was to have a twostep surgery over two weeks involving a laser travelling up my inside vein with the vein removal the next week. ! Needless to say I'm now researching for an alternative therapy that could assist me without surgery.
- Kind regardsDebi

Hi DebiWe have seen very good results with varicose veins by wrapping the legs with magnesium which is proven to increase circulation and improve the elasticity of veins – when they become hardened this can result in varicose condition. Miracle Mist sprayed onto a light cotton cloth and wrapped around the legs – with plastic wrap to protect the bedding and leaving on through the night. Combining this with Inclined Bed Therapy will be remarkable! Inclined Bed Therapy is proving to flatten varicose veins within 4 weeks amongst so many other health benefits – check this out: https://www.youtube.com/watch?v=x68PLE8MXJELazza and I have been sleeping inclined for a few weeks now with impressive results – take a look when you have the time – it doesn't cost anything and can make a huge difference to circulation in the body – easing the strain on organs and lungs all while you sleep! Inclined Bed Therapy – this is free and remarkable! It takes all the stress off the organs while sleeping. You can learn more about it by following the link.
- Sincerely, Alyce

Hi AlyceI have been meaning to contact you for some weeks now to let you know how appreciative I am that you told me about the Inclined Bed therapy.Not sure if the attached pictures are really any good but basically I am so delighted with the change in lower right leg.I no longer have aching pain and the visible difference has significantly reduced in size.I am also taking the MSM and Camu Camu and Mg spray as well.I get to tell lots of people too as I am now working for the Red Cross taking blood donations from blood donors.Finally I made another order today for more MSM and BlessI wonder if you have any more information sheets you put in with the order. I have given all mine away and now have none left to refer to.Thank you also for the extra freebee of Iodine that was also kindly appreciated.I am really feeling great (my husband as well is on the regime and my boys)Wonderful work you are doingTruly appreciated everything you do.
- Kind regards, Debi